Frequently Asked Questions
If you're a current member and you're looking for a subscription specific or billing related question, please click Login now and go to the My Account section.
Welcome — we're happy you're here! For an overview of who we are and what we do, please visit the About page. Check out the Editors page to learn more about our world-class team of experts. The Publications page describes the wide variety of research we provide, where you're sure to find something that fits your investment needs. And the Concierge is your source for understanding how all of our pieces fit together… as well as a library of FREE reports designed to help you become a more knowledgeable investor. For any additional questions or concerns, please use the Contact page or contact our Customer Service department at 1-844-731-0984.
If you're a member to log into the website, please click the "Login" link at the top right-hand corner of the website. When you click this link, you'll be taken to white box that will pop up. You can input your email and password in the designated boxes.
If you have forgotten your password, you can click the link that says "Forgot Password?". There you can enter your email to send a password reset to your email address.
SEC regulations prohibit Paradigm Press employees from giving personal investment advice. We are financial journalists, not advisors or brokers. Our newsletters, reports, and other research services should never be interpreted as personal investment advice. The sole purpose of our research is to alert you to opportunities that you may not be aware of. We make recommendations based on what we believe is the best course of action given our research. You should always speak with a financial advisor before acting on any investment recommendation.
The "PSV*" before'' stands for "publishing services," indicating that the charge is for a newsletter service. Other publishing houses use this same acronym. Following that is the name of the publication. In general, the PSV designation appears only on Visa card statements.
If you're having an issue with your subscription or have a question about the billing, please contact our Customer Service department. We'd be happy to help you out! You can contact our team by phone or email using the contact information below:
Contact us and one of our team members will get back to you as soon as possible.

Call our Customer Service department at 1-844-731-0984 business hours: 9:00 am to 8:00 pm EST, Monday through Friday.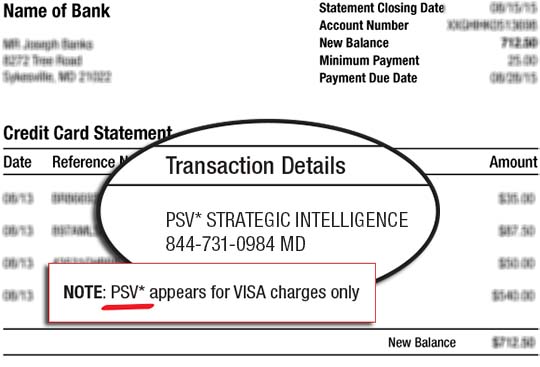 Our Services fall into 2 main categories Free Newsletters and Premium Stock Advisory Services. Free Newsletters offer daily insights into the markets. Premium Publications provide members with specific recommendations, a model portfolio, special reports, trade alerts and weekly updates.
Simply go to the My Account tab and click on Subscription Details Managment, where you can see the full list of your active subscriptions. Here you will have the ability to change your username and password, cancel your subscription and modify your auto-renew settings. You can contact our customer service department, they are available Monday ― Friday, 9-5:30 EST. To contact our team, please call 1-844-731-0984.
Refund policies are determined by the specific product. Please be sure to review as different services (and sometimes specific promotional offers) have different refund policies (including some that offer no refunds). Please review the specific terms of your offer before signing up as you are agreeing to be bound by those terms.
For more information regarding the refund policy for your specific service, please call our customer service department at 1-844-731-0984. They are available Monday ― Friday, 9-5:30 EST.